with remote control electronics!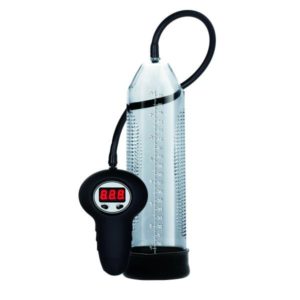 Prices range from about $80 – $120 – depending on options, and what time of the year you are shopping sometimes.
features "Fully automatic pressure control with the push of a button. Auto start/stop button. Quick air release valve. Ergonomic hand-held controller with push button controls. Easy to read LED display measures PSI vacuum inside cylinder. " – We would not bet a million dollars that the psi measurement is accurate – and how long it would be, but it's certainly fun to get an idea of where things are. No idea how well the psi is calibrated.
This is a great pump for those of us who get hand cramps easily, or deal with sore wrists / carpal tunnel – as it can do the pumping for you.
Requires 4 AAA batteries.
Width: 2.50 Inches
Length: 9.00 Inches
Insertable Length: 9.00 Inches
Features: Phthalate Free
Click here to learn more about this pump and for purchasing info from our online store.